Why opt for colleges with good Student Exchange Programs?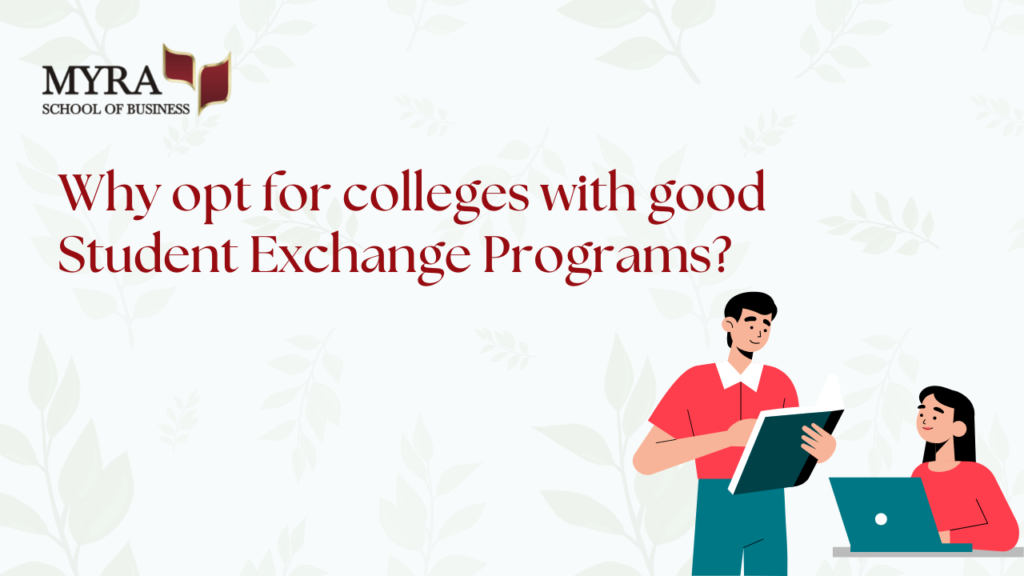 STUDENT EXCHANGE PROGRAMS
Student exchange programs are offered by educational institutions that are affiliated with international colleges and universities. MYRA School of Business is one of the very few colleges in India that recommends the PGDM program in which individuals can opt for the study abroad program.
It is time students understand that the kind of experience and exposure a student receives with an exchange program is far superior to that of a  regular one. Along with specializing in their desired field, the postgraduates learn to live independently and hone their skill set. These programs help in boosting the student's resume and double the chances for professional growth. 
In these programs, students get to experience a different style of teaching, along with being exposed to varied ethnicities and cultures. There is of course traveling and exploring added to the mix. Exchange Programs stimulate the brain in an individual and evoke self-awareness and cultural acceptance along with the ability to adapt to different situations. Call it the first step to understanding the workings of the world. 
If you aren't convinced yet, here are a few more reasons for you to look at before opting for the international student exchange program offered by the MYRA School of Business.
Experience a New Culture
The international university or college you wish to transfer to is the best way for you to experience a new culture or tradition. It is a great way to step out of your comfort zone and experience new perspectives and thought processes. It aids in tolerating and accepting co-living with various ethnicities and partaking in each others' traditions.
Every culture comes with unique ways of teaching as well. Exposing yourself to different teaching styles to see what approach is best suited to achieve goals is a great way to identify what path to take for your professional advancement. Gaining worldly knowledge is one of the topmost priorities of this AICTE-approved college. 
Expand your Employment Opportunities
MYRA is a boutique business school that has innovatively designed its Post Graduate Diploma in Management (PGDM course) with a view to allowing students to think for themselves to be better versions of themselves, professionally. Globalization is increasing rapidly, and it is the responsibility of educational institutions to do their bit in shaping students to face the world head-on. 
This inter-university exchange program boosts your resume and shows your future employers the ability to adapt to situations and solve problems. It gives you the opportunity to gauge and understand new cultures to use it to your advantage when you approach potential employers.
Make Global Connections
Meeting people from a wide range of socio-economic and racial ethnicities allows you to imbibe some aspects of their culture and also share with them parts of your traditions. Exchange programs at MYRA allow you to do that and more. These programs allow you to make connections worldwide and strengthen those connections for future job prospects.
The more you are endorsed by global connections the higher the chances are for you to land the job you always wished for. International students who come to MYRA also experience the same cross-cultural ethnicity and traditions. They go through a life-changing experience with their classmates. Learning a local language will allow you to have a competitive advantage over your peers which is what employers are looking for these days.
Study Abroad at a Fraction of the Cost
Exchange programs may be for a term or an entire year but the impact it has on a student is beyond comparison. Student exchange programs can not only save you money but will also help you develop your unique personality in ways you never expected. All of this has the potential to shape your future and work in the long term, whether explicitly or implicitly. 
For some, the inexpensive cost of student exchange programs is their most appealing characteristic. Many Indian students cannot afford to study abroad since it costs big bucks. When students participate in a student exchange program, they have the chance to study and live in a foreign nation for a fraction of the expense compared to full-term programs.
MYRA has partnered up with reputed European Institutions like Catolica Lisbon School of Business and Economics in Portugal and the University of Würzburg in Germany. MYRA has a 5th-tier partnership where not only students but the faculty can also opt for exchange along with other exchanges.
Be Globally Aware
The ever-shrinking corporate world is always on the hunt for individuals who comprehend and can perform in a global market. Students who opt for the exchange program are book and street-smart. They have a greater awareness of global market dynamics and are far more prepared to deal with difficulties at work.
These programs are giant leaps in the professional direction students always desired to venture into. Student exchange programs are extremely helpful in sculpting a student's career and allowing them to experience the vast possibilities the world has to offer.