Why choose to pursue a Post Graduate Diploma in Management?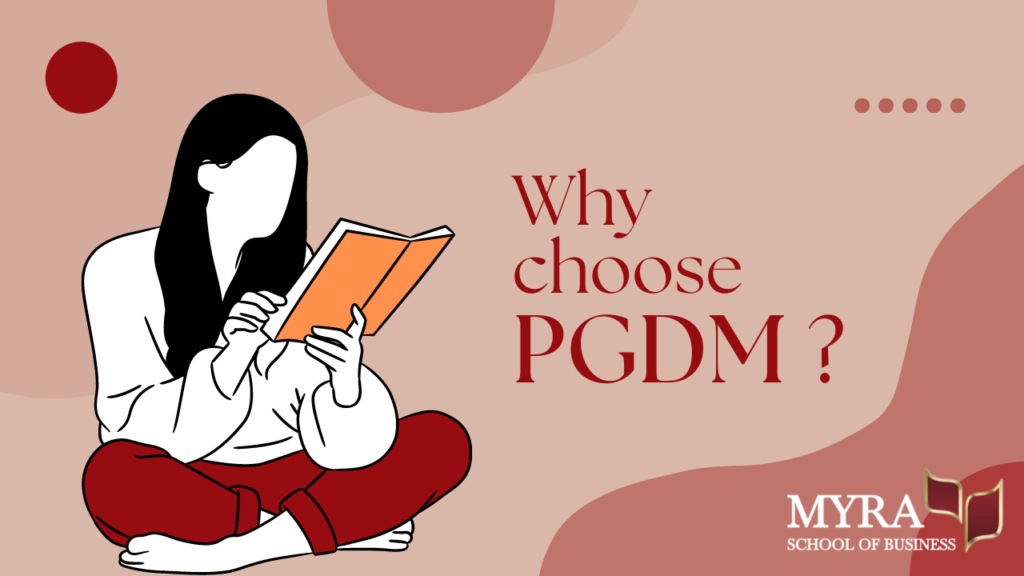 Introduction
A study in 2022 revealed that, in the coming years, about 90% of companies and businesses in India would be looking to hire business graduates. This has consequently led to a rise in the number of career opportunities open for students who are pursuing or thinking of pursuing a PGDM in the future.
In addition to this, as a result of the pandemic, the companies are looking to hire employees who have expertise in the domain of business across industries. And, since the students having these proficiencies will be highly sought after, a 2-year PGDM course that is highly adaptive and alters the curriculum based on the industry's requirements automatically becomes highly desirable.
What is a Post Graduate Diploma in Management (PGDM)?
A Post Graduate Diploma in Management, otherwise known as PGDM, is a 2-year rigorous course offered by business schools to inculcate practical knowledge and skills as well as management capabilities in the students preparing them for the changing business world and enabling them to embrace the changes and become the leaders of tomorrow.
Because a PGDM course is offered by autonomous institutions, that is, they are not affiliated with any university, they are referred to as a diploma and not a degree. An institution or a business school that has received the accreditation and approval from the All India Council for Technical Education (AICTE), under the Ministry of HRD, Government of India, is permitted to offer the program and confer diplomas to its students.
The reason why a PGDM course is gaining popularity is largely due to the fact that it emphasizes the practical aspect of a business, is highly industry-specific and the curriculum is designed keeping in mind the current scenario of the business world and the real-world challenges that it faces.
Due to these reasons, the students who have completed their PGDM are highly skilled and business-savvy with lots of practical knowledge that they could utilize to tackle what they might face in their work.
What are the key reasons for pursuing a PGDM course?
Industry oriented programme
Since the institution offering the PGDM course is an autonomous body, it has the liberty to change its curriculum based on the current market trends and requirements, ensuring that the content learned by the students is always relevant and in line with the demands of the corporate world.

Wide range of specializations
Each student has their unique interest areas and a PGDM offers them the opportunity to gain knowledge and mastery in those subjects by offering a wide range of specializations like International Finance, Research & Business Analytics, Enterprise Management, Marketing, and more. This results in the students choosing to pursue their desired knowledge thereby granting them mastery in the same while allowing them to land their dream job roles.

Imparts industry-relevant skills
A PGDM course, through its extensive and tailored curriculum, aims to impart to its students a right blend of managerial skills and soft skills alike making sure that once a student has graduated, he is equipped with all the necessary skills to become a successful leader and face the real-world challenges with relative ease.

International Exchange Programs and Internships
Institutions offering a PGDM course are more focused on providing students with real-life, practical experiences. To this end, they collaborate with several industries which allows them to offer vital internship opportunities to learn from the industry experts. Not just this, the institutions also partner up with several International Universities, allowing the students to experience a cross-cultural exchange of ideas and gain an understanding of the business scenario at a global level.

Networking opportunities
One of the important reasons, if not the most important reason, why students choose to pursue a PGDM is due to the opportunities it provides to forge industry connections through internships, workshops, guest lectures, global assignments, and more. This ensures that the students are not only exceptionally capable and skilled individuals but are also up to date with the working of the industry.

High paying placement opportunities
Another important benefit of pursuing a PGDM program is the fact that it cultivates, within the students, the necessary skill sets and practical knowledge to cope with the existing market trends and adapt to any future changes that may occur, making them a valuable asset for any organization. This in turn allows the students to land their dream jobs with higher salaries. And not just students, even working professionals can achieve promotions and better career opportunities by completing a 2-year PGDM program.
Conclusion
A PGDM program provides students with a plethora of specializations to choose from and prepares them to become leaders in the ever-growing field of the market. It emphasizes providing practical knowledge and helps inculcate and hone managerial skills as well as several soft skills like leadership, communication, negotiation, sales, team management, and so on, within the students enabling them to land their dream jobs within the industry making it an ideal choice for the students.