Prof. Rajeev Tandon
Visiting Faculty - Marketing & Market Research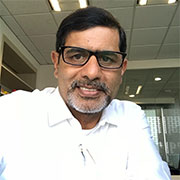 BACKGROUND
Former CEO SC Johnson – India, Indonesia, Russia and CIS, Indo China
Visiting/Adjunct Professor of Marketing: MYRA School of Business, Mysore, School of inspired Leadership (SOIL), Manipal University Jaipur.
Prof. Rajeev has spent over 30 years helping major FMCG brands sell their products to millions of consumers around the world. He has a deep understanding of Indian, Russian, South East Asian, and Egyptian markets. His excellent track record as a C-level executive is appreciated by students, who value his practical knowledge regarding corporate strategy.
EDUCATION
Master of Management studies, MBA Jamnalal Bajaj Institute of Management Studies, Mumbai
B.Tech (Mech), IIT Kanpur
Academic Experience:
2019 – now Vising Professor Marketing, MYRA School of Business, Mysore.
2018 –now Visiting Professor Marketing, School of Inspired Leadership, Gurgaon.
2020 – Visiting Professor Marketing Manipal Institute of Management, Jaipur.
TEACHING FOCUS
Brand management
Sales and channel management, including acquisitions and their integration
Route-to-market strategies
Media-to-shelf planning and execution
Digital and e-commerce strategies
Teaching Interests:
Product and Brand development. Strategies to drive Brand Penetration.
Sales and Channel Management. Strategies to transform Channels of distribution. Customer though leadership.
S&OP cycle management. Net Revenue Management.
INTERNATIONAL MANAGEMENT EXPERIENCE
Executive Director and General Manager at SC Johnson

Led strategy for brands like Raid, Allout, Glade, Duck, Mr. Muscle, and Ziploc)
Led business operations for Russia, China, India, and Indonesia.

Sales and Marketing Executive for The Gillette Company across India, South Asia, and Egypt
Industry Experience:
Executive Director & Group General Manager (CEO) with SC Johnson ( $10bn privately held CPG MNC with leadership in Pest, Home cleaning, Air care and Home storage. Brands Baygon, Raid, Ziploc, Pledge, All-out, Glade, Duck, Mr Muscle.) 
Sep 2016 -June 2018:    General Manager/ CEO – Indonesia $130MM business.
May2011-August 2011:    Group GM/CEO -Russia and CIS countries $350mm business.
October 2008-April 2011:  Group GM/CEO Indochina (Thailand Vietnam Laos Cambodia) $140mm business.
March 2007-Sept 2008: General Manager/CEO – India and South Asia.
April 2004-Feb 2007: Sales Director-Johnson Home Hygiene Products, Indonesia.
Aug 2001-March 2004: Managing Director Lever Johnson, India.
Country Manager Braun a division of Gillette, Business and Sales Director Gillette India.
April 2000-July2001 – Business Director grooming Gillette India and South Asia.
Sept1995-March 2001: Country Manager Braun small appliances (a division of Gillette India) India and south Asia.
Sept1994-Aug 1995: Marketing and Sales Director International Distillers and Vintners.
March 1992-Aug 1994: Sales Director Gillette India &South Asia.
Formative years in sales and, brand roles with Glaxo Smith Kline consumer in India.
Training & Consulting Interests:
Brand and Go to Market strategies and execution
Conducted Leadership accelerator program-Commercial Skills Development: Apollo Tyres
Conducted Leadership accelerator program-Commercial Skills Development: Advent PE Modenik group. Dixcy-Enamour brands.
Mentor to students at the CCBP IIM Ahmedabad (Creative and Cultural Business Program)
SOCIAL ENTREPRENEURSHIP ACTIVITIES
Served as a director on the board of United Way of Russia (2011-2016)
Participates in the Global Base of the Pyramid (BOP) Summit in Delhi
Conclaves and Conferences:
Developing and driving brand penetration – Leadership conference of International Paper India:
Speaker The 4thIndustrial revolution – Manipal Institute of Management – Jaipur:
Interview on: The brand called you – Sep 2020 :https://youtu.be/9jzoH0P2x2c