Prof. Balaji Chakravarthi
Visiting Faculty - Digital Marketing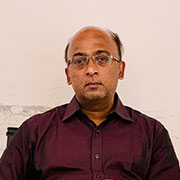 BACKGROUND
Professor Chakravarti is an expert in B2B sales and marketing – and has extensive experience in teaching MBA students at top schools around India. Students appreciate his ability to bring practical industry knowledge into the classroom, and he plays a key role in mentoring MYRA students — preparing them for highly successful careers in sales, marketing, and entrepreneurship.
EDUCATION
MBA Marketing, Institute for Technology and Management
B.E. Mechanical Engineering, Crescent Engineering College
TEACHING INTERESTS
B2B Sales in the IT services sector
Digital Marketing
Entrepreneurship in the USA, UAE, and India
SALES & MARKETING EXPERTISE
20+ years of Inside Sales experience in managing large call centers and sales teams 
CONSULTING EXPERIENCE
Conducted over 100 workshops across Nasscom, TiE, NEN, IIMs, and IITs.
Founder of Scovelo, a sales process, and digital marketing consulting firm.
Editor of FirstFewCustomers.com
Frequently speaks to students and corporate audiences around the country on topics related to digital marketing, B2B sales, retail analytics, and consumer behavior.