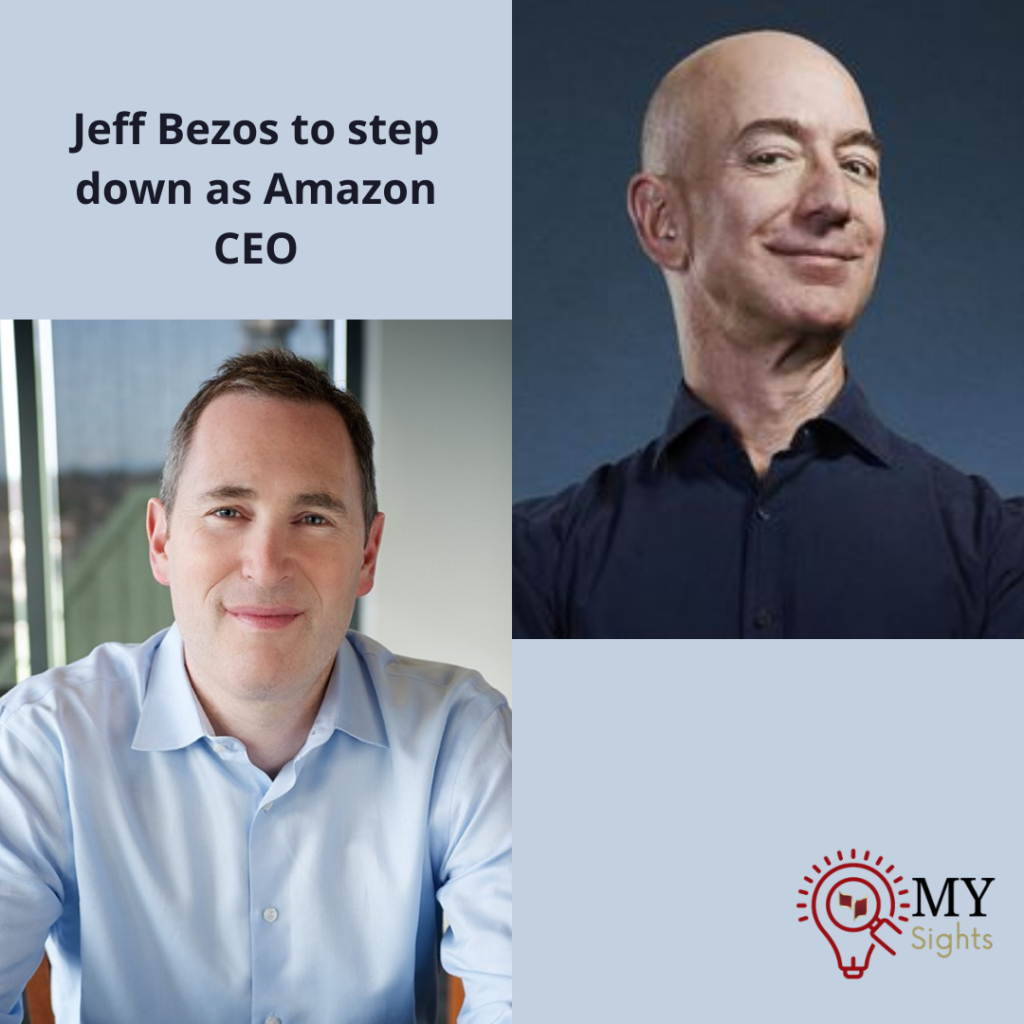 Jeff Bezos to step down as Amazon CEO
In the third quarter of 2021, Jeff Bezos will step down as CEO of Amazon – and Andy Jassy will take his place. Jassy has been at the company since 1997 and currently heads Amazon Web Services (AWS) – which offers cloud-computing services to individuals, companies, and governments around the world. AWS is Amazon's most profitable business.
Bezos will now have time to focus on his other businesses – like Blue Origin (a space exploration company) and The Washington Post (a newspaper that he bought in 2013 for $250 million in cash). Bezos will not be leaving Amazon completely though – he's just stepping back from day-to-day operations. He will transition to the position of Executive Chairman – and since he's the company's largest shareholder, he'll still have considerable influence.
Bezos got a degree in engineering and computer science from Princeton University – and then worked at several Wall Street companies. Then he quit his job to start an online bookstore. He convinced his parents and some friends to invest in his idea – and Amazon.com began operating out of Bezos' garage in, 1995.
Nowadays, Amazon does a lot more than just selling books. It is an e-commerce giant and is also known for Amazon Prime Video, Twitch, Audible, Alexa, AWS, Kindle, Whole Foods, Ring, and Amazon Music.
Amazon is the 4th largest company in the world (by revenue) and employs over 1.3 million people globally. The company reported record profits during the Covid-19 pandemic – as shoppers shopped from home using their mobile devices instead of going out in person.
Did you know…
Amazon is considered to be one of the Big Five IT companies in the US – along with Google, Microsoft, Apple, and Facebook. As these companies get bigger and more powerful – many politicians are calling for regulation. The US government may consider breaking up Amazon and the other tech-giants, making it harder for them to acquire companies. It may also impose new rules and laws to safeguard competition so that the world is not run by large tech-monopolies. We will have to wait and see what happens.
Last month, Amazon India (headquartered in Bangalore) announced that it will conduct training, webinars, and on-boarding workshops for Indian entrepreneurs who want to get into the export business. This program is targeted at MSMEs (Micro, Small, and Medium Enterprises) in the Bellary, Mysore, and Channapatna region.
---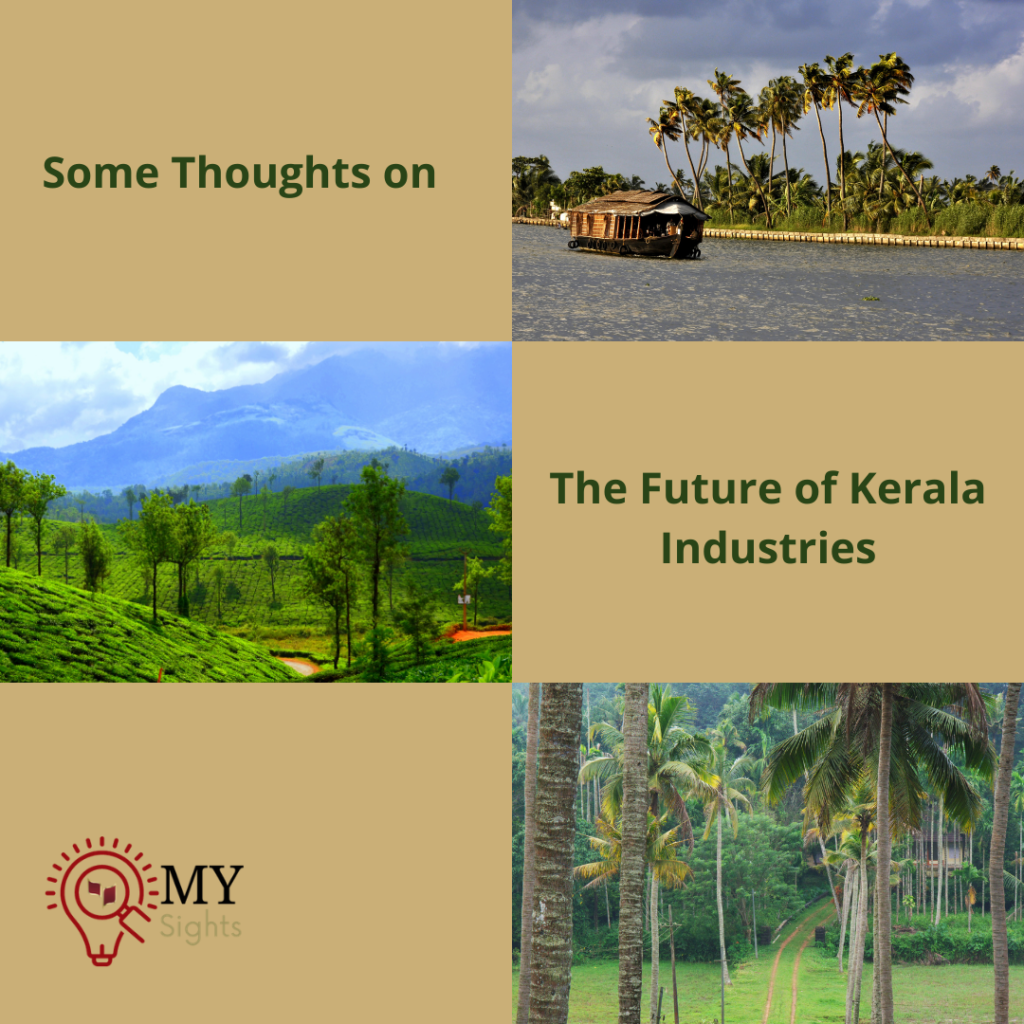 Some Thoughts on the Future of Kerala Industries
Recently, the Kerala State Planning Board held a conference to discuss the best ways to bring industrial and infrastructure projects to the state.
It was attended by industry titans such as Ratan Tata (Chairman of Tata Trusts), Azim Premji (Founder of Wipro), Anand Mahindra (Chairman of Mahindra Group), Kiran Mazumdar-Shaw (Chairwoman of Biocon), Kris Gopalakrishnan (Chairman of Axilor Ventures), Yusuff Ali (Chairperson of Lulu Group), and Azad Moopen (Chairman of Aster DM Healthcare).
Key discussion points from the session included:
Kerala's industrial development may not have been as aggressive as elsewhere in India due to the desire to keep the state beautiful – and on-brand with the "Gods Own Country" tourism tagline [RT]
The state can emerge as a global hub for an entire spectrum of "Green Businesses". It has a proactive government, investor-friendly policies, and a very clear vision for the future. Electrical vehicles and agricultural modernization are two areas where the Mahindra Group will invest heavily. [AM]
The Cochin Cancer Research Institute in Ernakulam and the Regional Cancer Centre in Thiruvananthapuram are well-respected in the global healthcare community. More investments in the life sciences – particularly in medical technology and cancer research are recommended. [KMS]
The state has the potential to become a hub of 5G technology, artificial intelligence, machine learning, and biotechnology. The Lulu Group has already pumped in Rs 15000 crore into the state – and has plans to invest an additional Rs 8000 Crore in the areas of healthcare, hospitality, food processing, and medical equipment. [YA]
MYRA students can take note of the major investments in South Indian industries. Kerala is rich in natural wealth – particularly minerals like cerium oxide, monazite sands, and titanium-containing ilmenite and rutile – which are rare metals used in aircraft and space engineering products. Kerala also has many plantations of spices, rubber, tea, coffee, and forests for plywood. It also has natural beauty and ancient ayurvedic knowledge, which helps in tourism. By paying attention to what's happening in neighboring states, MYRA students can spot future trends and opportunities.
---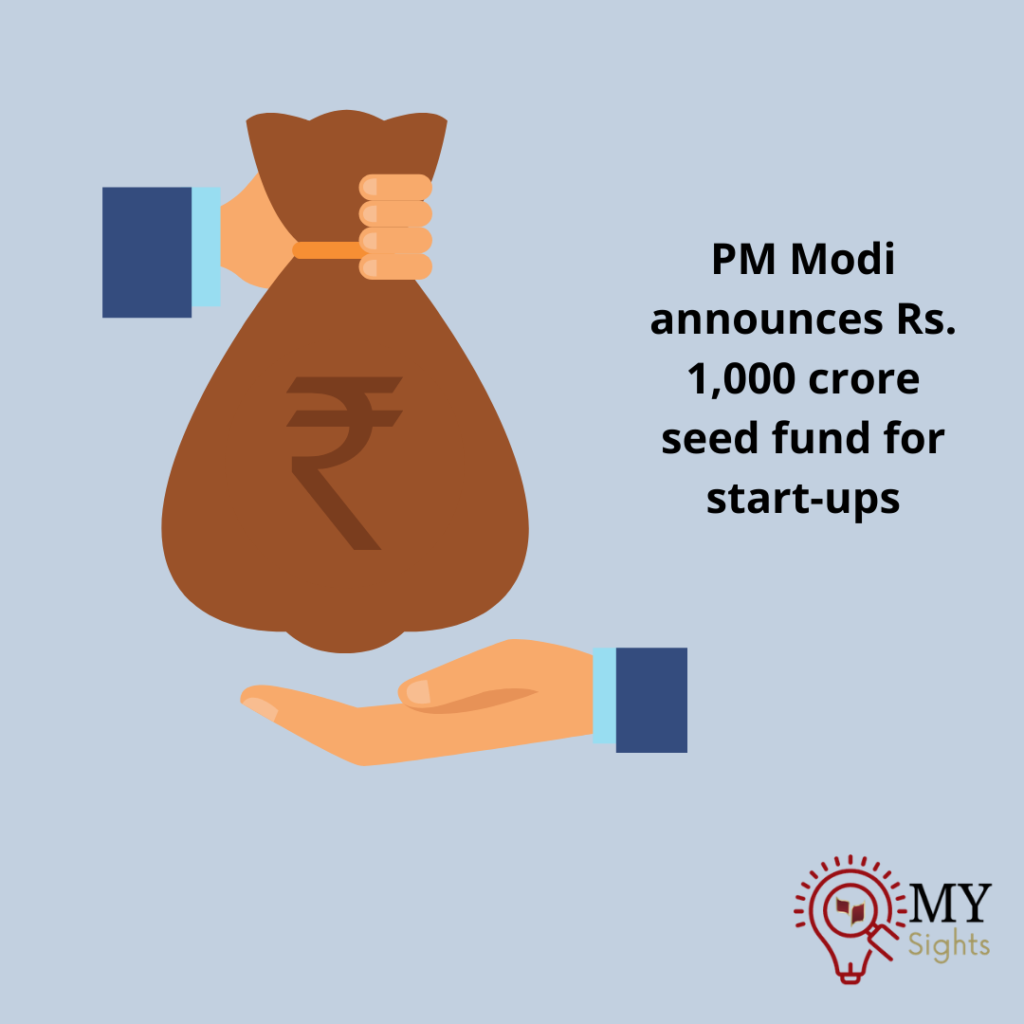 PM Modi announces Rs 1000 crore seed fund for start-ups
The Prime Minister has announced a Rs 1000 crore Start-Up India seed-fund to help new start-ups grow in the country. "We are trying to create a start-up system which is based on the mantra 'of the youth, by the youth, and for the youth," Modi said at Start-Up India's recent summit.
Currently, in India – there are over 41,000 start-ups. Around 3600 are in healthcare, 1700 are related to agriculture, and 5700 are in the IT sector.
Despite the pandemic, 11 start-ups turned into unicorns in 2020 – compared to just 4 in 2014. A "unicorn" is a start-up that is valued at over $1 billion. Six of these unicorns are Bangalore-based: Razorpay, Unacademy, Postman, Zerodha, Dailyhunt, and Glance. The others are Nykaa, Pine Labs, First Cry, Cars24, and Zenoti.
"Start-ups powered India's drive for being self-reliant amid the global pandemic – when major companies were struggling with survival. The present young generation has an immense entrepreneurial streak, and looks to be job-creators instead of job-seekers," said the Prime Minister.
These start-ups will likely create lots of employment (direct and indirect) in the Mysore/Bangalore region. According to Nasscom (an IT industry trade association), the Indian tech industry continues to hire in large numbers – with a significant focus on digital-upskilling. The industry is expected to add more than 138,000 net new hires in FY2020-21.
"Digital transformation is the topmost priority for global corporations. In a highly connected world that will remain largely contactless for an extended period, there are shifts in business models, customer experiences, operations, and employee experiences." – U.B. Pravin Rao (Chairman of Nasscom & COO of Infosys)
MYRA students with business ideas are encouraged to familiarise themselves with https://www.startupindia.gov.in/
---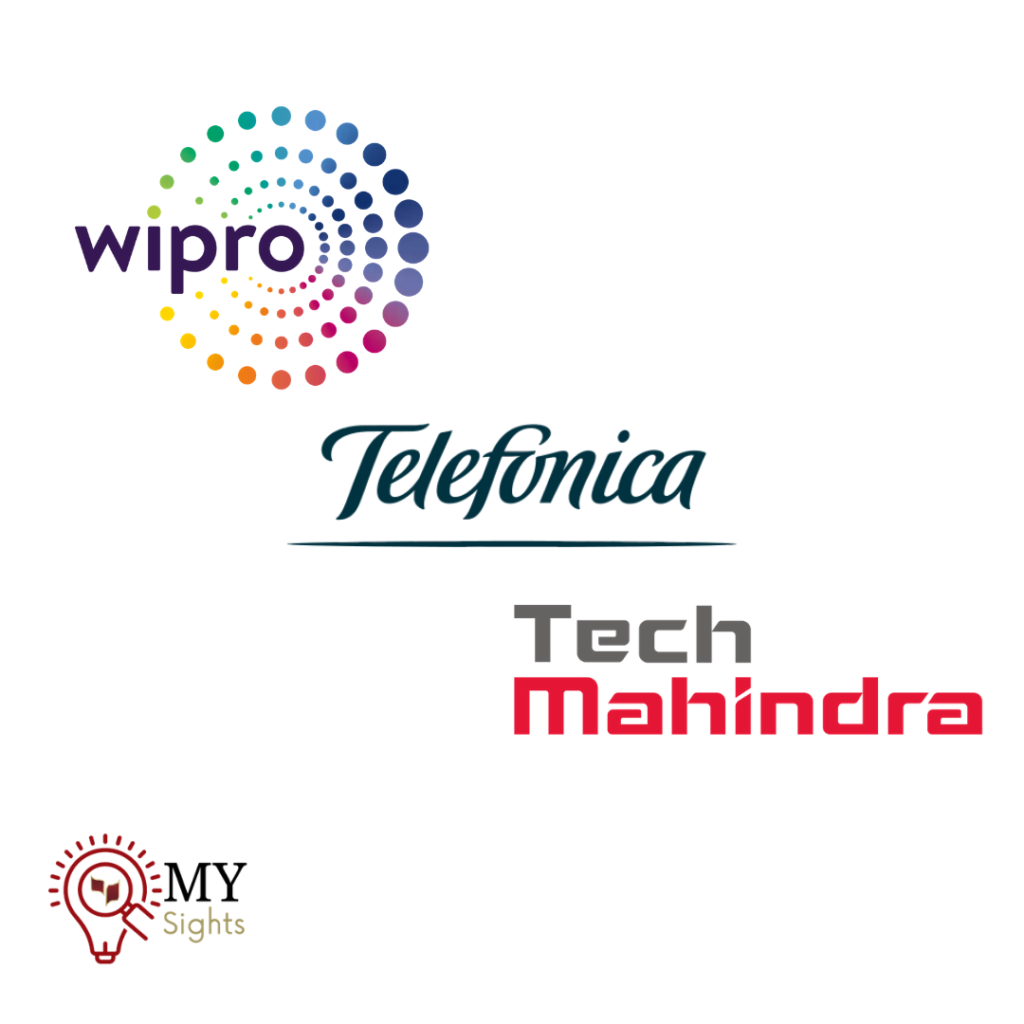 Wipro + Telefonica Germany + Tech Mahindra
Wipro Limited and Tech Mahindra are Indian multinational companies that provide Information Technology and Business Process Outsourcing (BPO) services.
Recently, they have both signed 5-year strategic-partnership agreements with Telefonica Germany (O2) – a provider of broadband, landline, and mobile telecommunications in Germany.
As part of this contract, Wipro will work with Telefonica Germany to upgrade its business support systems through a process known as RAITT (radical IT transformation). This will make their customer-service cheaper and more efficient – and also help them launch new 5G and IoT (Internet of Things) products. Tech Mahindra will help Telefonica Germany with its network and service operations – and also help implement artificial-intelligence and machine-learning capabilities into their back-end systems.
MYRA has seen a trend of large European companies outsourcing IT work to India over the past few months. In Issue 1, we covered the partnership between Infosys and Rolls-Royce. And in Issue 3, we highlighted an agreement between Infosys and Daimler. This trend will continue, and Bangalore and Mysore will benefit from many more skilled jobs coming into the region – particularly in the areas of data-analytics and customer-service management.
Did you know that MYRA students are currently mentored by executives at Tech Mahindra? https://myra.ac.in/industry-webinar-careers-in-itis-by-krishna-gopal-global-head-sales-enablement-tech-mahindra/
---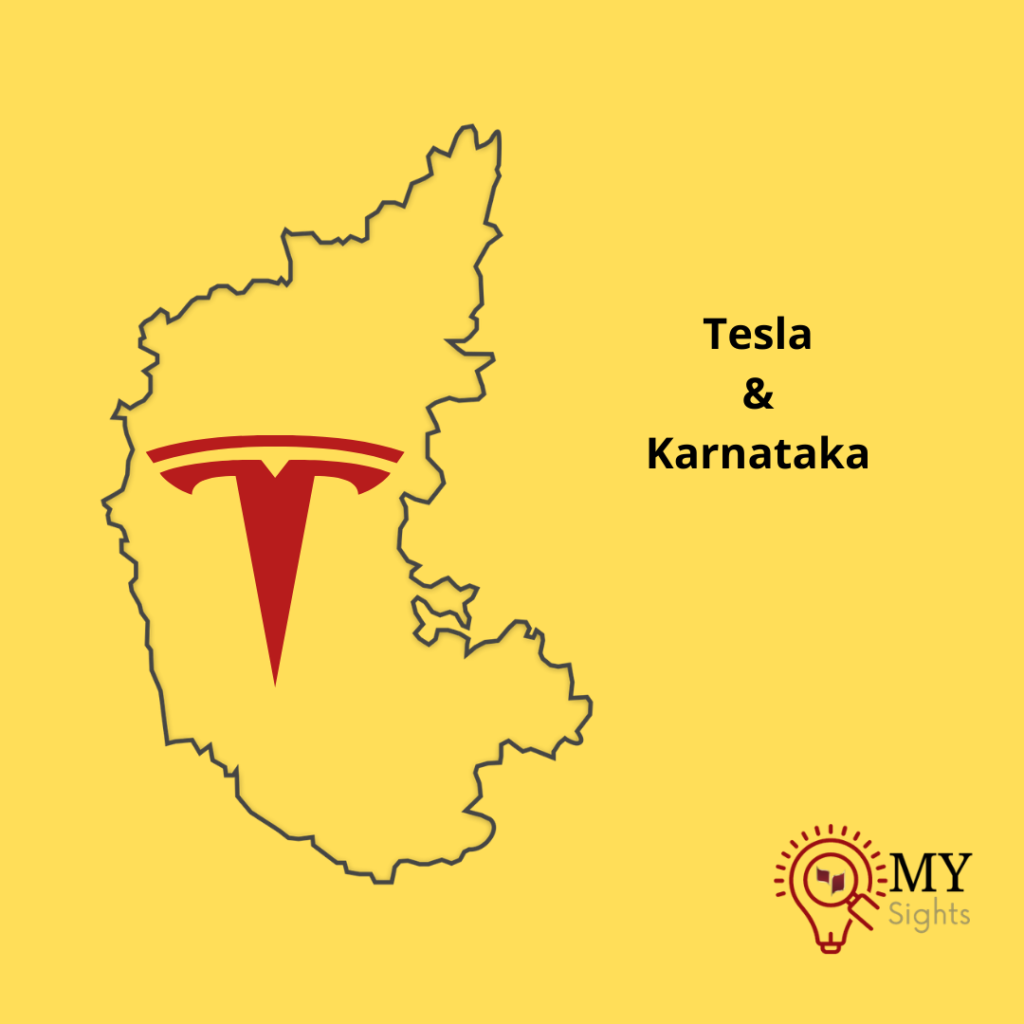 Tesla & Karnataka
In Issue 3, we discussed the entry of Tesla into the Indian market. Now, we have an update!
Tesla has set up a subsidiary called Tesla India Motors and Energy Pvt Ltd and the registered office is in Bangalore, on Lavelle Road. And recently, Chief Minister BS Yediyurappa announced that the electric vehicle (EV) giant will be setting up a manufacturing plant in Karnataka as well.
Why did Tesla choose Karnataka?
Perhaps because the Karnataka government has dedicated EV policies and incentives to encourage green companies to set up in the state.
But it also might be because Bangalore is already one of the country's largest research and development hubs – and is known as the Silicon City of India. It currently houses the R&D units of Mercedez-Benz, Daimler, General Motors, Fiat Chrysler, Bosch, Delphi, Mahindra & Mahindra, and Volvo. There are also innovative transportation start-ups like Ola, Bounce, and Vogo headquartered in Bangalore. In addition to that, many companies focusing on EVs like Ultraviolette Automotive, Mahindra Electric, and Ather Energy are present.
This indicates that Karnataka is already an innovation hub – with a diverse workforce full of educated, experienced, and English-speaking people. This kind of culture is very attractive to foreign companies that are looking to enter India.