Industry Webinar on 'The Science of Being Happy' by Mike Murali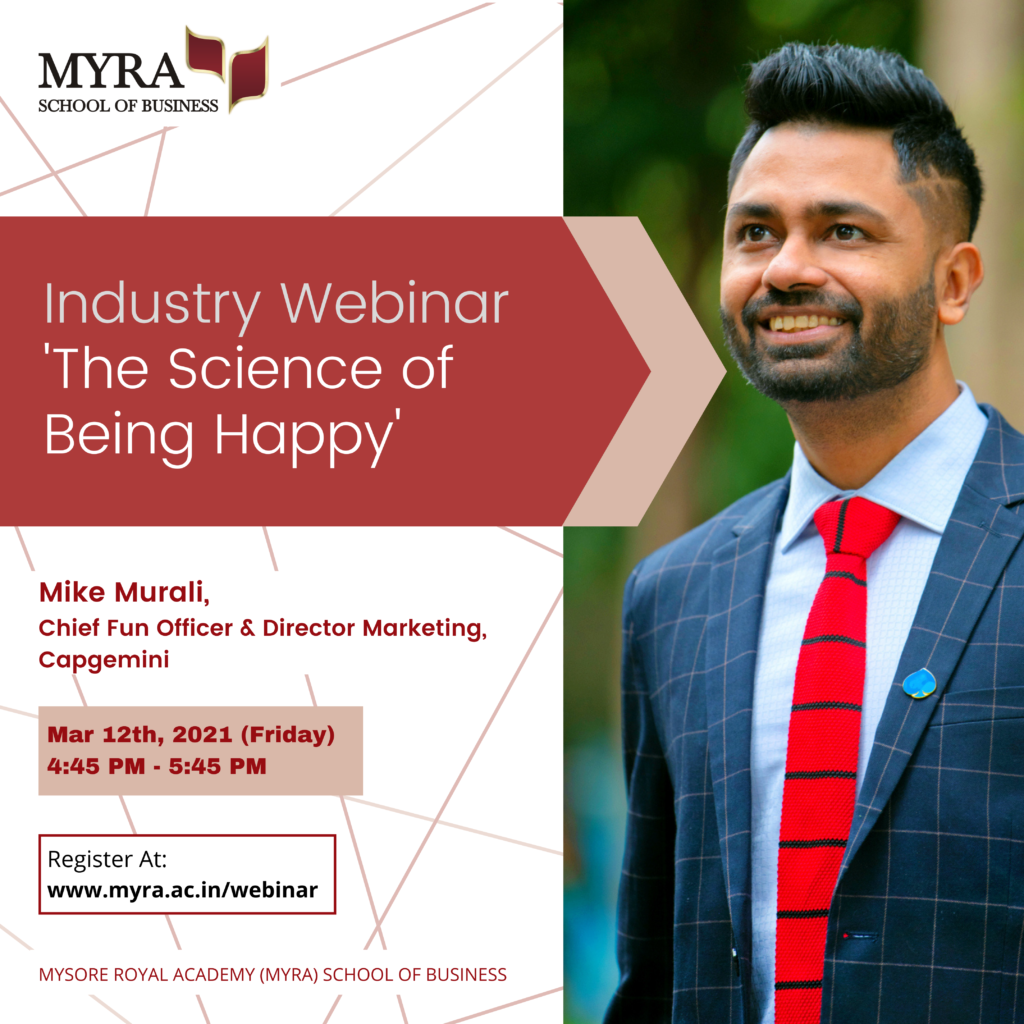 On Friday, March 12th, MYRA PGDM students attended a virtual lecture titled "The Science of Being Happy". It was delivered by Mike Murali, Chief Fun Officer & Director Marketing – Capgemini. Capgemini is a French multinational IT-services company with over 120,000 employees in India.
Mike Murali is a Bangalore-based executive with strong interests in branding, internal communication, large events, employee engagement activities, and client relationship-management. As the Chief Fun Officer at Capgemini, Murali comes up with innovative programs and activities for employee engagement. He also handles four other functions under corporate marketing, touching the brand at multiple levels. He is also an accomplished public speaker – and has delivered TEDx talks, concerts, cricket-stadium commentary, and televised events.
In this session, Mike shared stories and videos from interesting Capgemini initiatives – and also gave some advice on achieving personal happiness and career success. This unique session was appreciated by MYRA faculty and students – particularly those interested in HR and Marketing subjects.
Key discussion points included:
How music can be used as a tool to create workplace happiness – especially if it brings together employees in a fun and relaxed setting.
How encouraging dreams and aspirations in individuals can help create motivated and productive project teams.
How giving back to society can be a source of happiness – and how Corporate Social Responsibility (CSR) departments at major companies are using this idea.
How a company's internal fun initiatives can be used effectively in external marketing and branding exercises.
The 10 Commandments of Happiness – a set of personal lifestyle recommendations which touched on themes of self-reflection, reading, goal-setting, upskilling, practice, friendships, and purpose.
This webinar was hosted by the MYRA Career Services Office – which aims to gives students and faculty an opportunity to connect with industry experts on interesting topics. To register for the next webinar, please visit www.myra.ac.in/webinar