Industry Webinar on 'Changing landscape of BFSI in India & Careers in Financial Consulting' by Jaikrishnan G, Director – KPMG India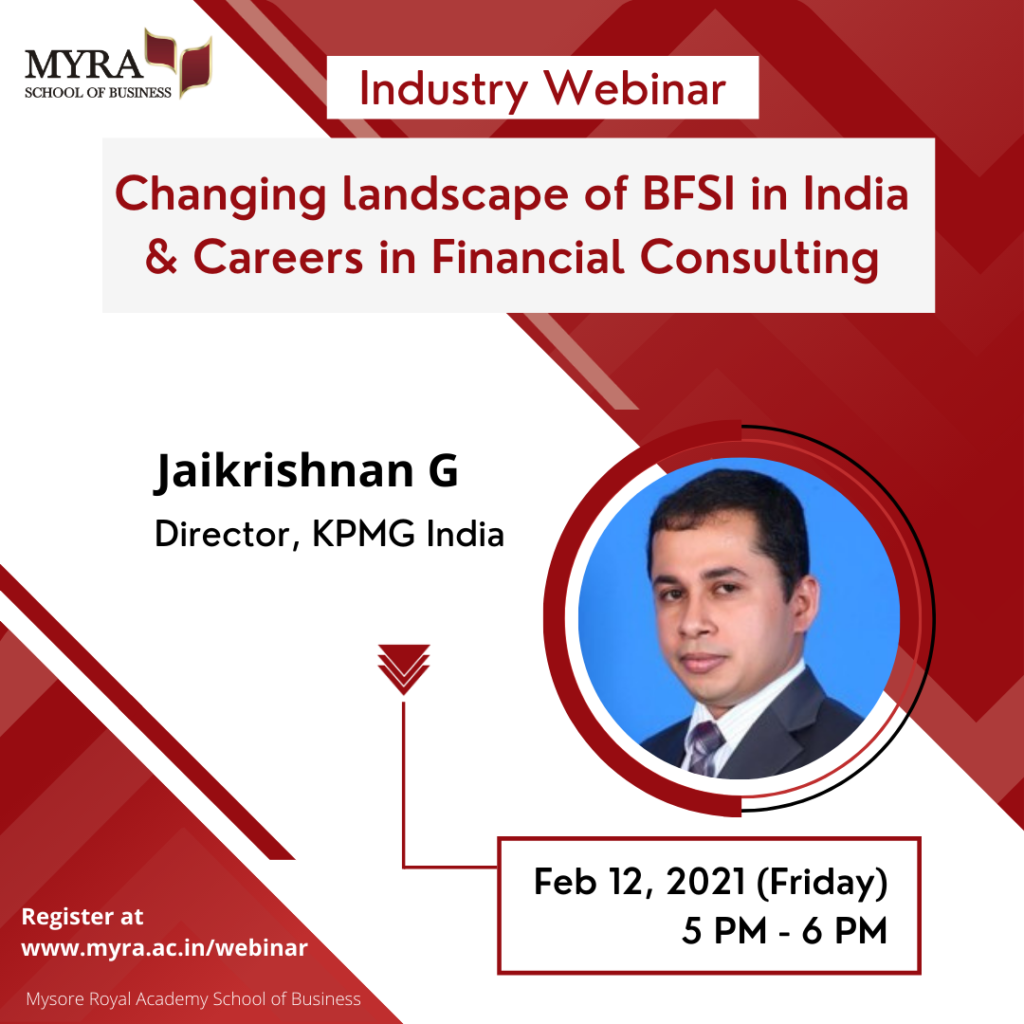 On Friday, Feburary 12th, MYRA students attended a virtual guest-lecture titled "The Changing Landscape of the Banking and Financial Services Industry"
It was delivered by Jaikrishnan G, Director at KPMG. Jai has over 18 years of experience in Management Consulting. He specializes in the Financial Services sector – and currently advises Banks, NBFCs (non-bank financial companies), and FinTech companies in business-transformation and financial-inclusion initiatives.
Jai is particularly interested in Governance and Growth Strategy, Operationalization Assistance, Business Process Reengineering, Cost Optimization, Customer Acquisition Strategy, and Identification of Diversification Opportunities.
The webinar was structured like a Q&A session between MYRA students and Jai. Some of the questions were:
What banking products should students be familiar with?
What exactly does Infosys do for the global financial services industry?
Will the rise of cryptocurrency affect Indian businesses in any way?
Why will "Open Banking" disrupt the banking sector in the future?
Has the Covid-19 pandemic changed the KPMG workforce?
How has Demonetization changed the Indian economy?
What kinds of jobs can MYRA students get at KPMG?
In addition to giving detailed answers to these questions, Jai recommended that students keep their minds open to new opportunities as they move forward in their careers. He also stressed the importance of understanding data-architecture, digital products, user-interface design, and staying up-to-date on business news.
"There is optimism and energy in all boardrooms across India. Through the upgrading of Indian infrastructure and investing in technology, at least 200,000 jobs will be created in the next few years – and this number will be much higher if you include start-ups."
This webinar was part of an ongoing series, organized by the MYRA Career Services Office. These events allow MYRA students to openly interact with top industry executives. To register for the next webinar, please visit myra.ac.in/webinar.