Distinguished Lecture on 'How a PGDM can explore Careers in Art' by Mr. Kandaswamy Bharathan, Joint Managing Director – Kavithalayaa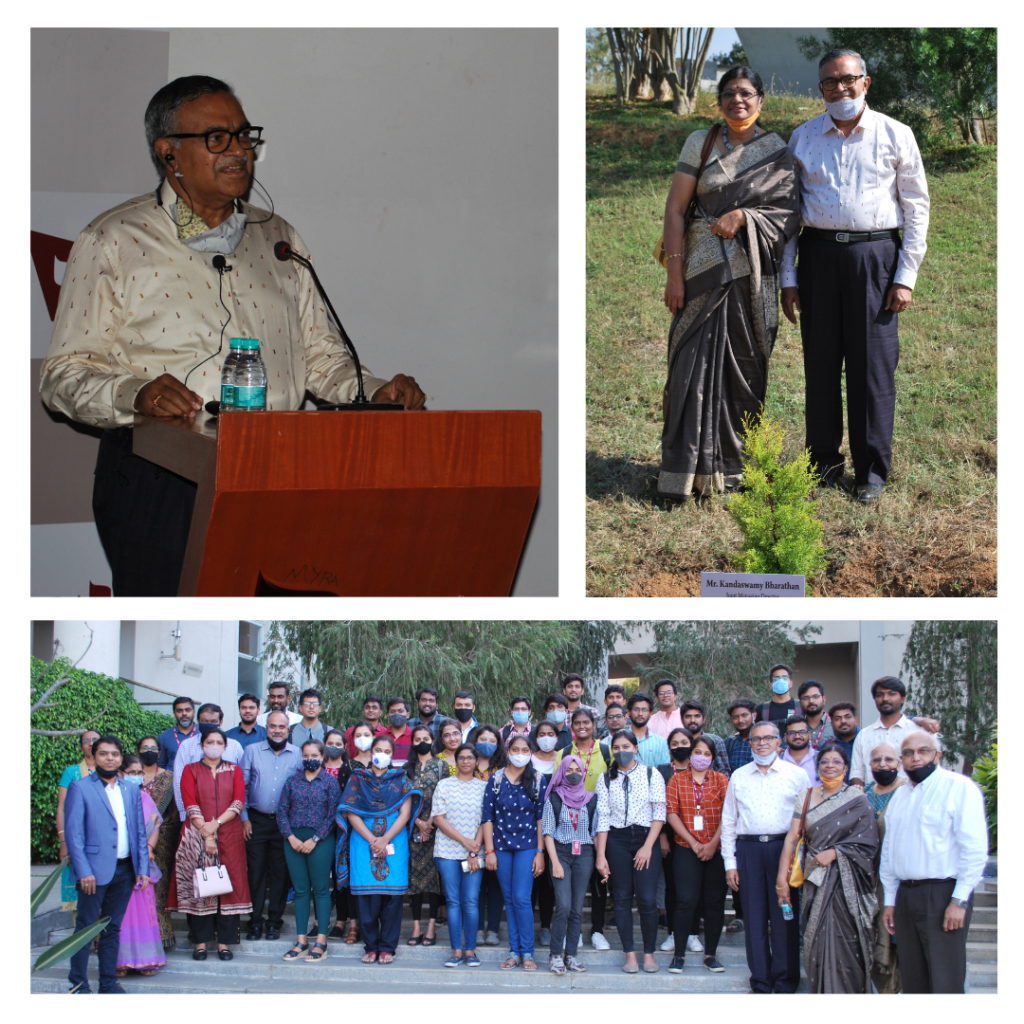 On Monday, January 25th – Kandaswamy Bharathan (Joint Managing Director – Kavithalayaa) delivered a talk at MYRA as part of the "Distinguished Lecture Series"
Kandaswamy Bharathan is an alumnus of the Indian Institute of Management – Ahmedabad (IIMA). He spent 12 years in the Automotive sector before joining Kavithalayaa, a well-known film and television production-house based in Chennai that was founded by K. Balachander, an iconic Film Director and Dadasaheb Phalke Awardee.
He was the Executive Producer of award-winning films such as Roja, Annamalai, Saamy, Kuselan, Muthu, and many others. Roja launched the career of Maestro A.R. Rahman – and Muthu was a massive success in Japan and contributed to building business and cultural ties between India and Japan.)
Bharathan is a Visiting Faculty at IIM-Ahmedabad and ISB-Hyderabad and played a key role in designing India's first management courses on the film industry. Next year, his courses will be offered to MYRA PGDM students as an elective. As part of the course, students will learn about post-pandemic challenges for the movie business, analyze case-studies on Indian blockbusters, and attend discussion-seminars with well-known figures from the South Indian film industry.
The lecture covered:
The film industry ecosystem and the 34 jobs and roles that are involved. This was discussed from creative, technological, and management angles.
Lessons in excellence from K. Balachander, James Bond, Akira Kurosawa, The Godfather, South Indian Cinema, Bollywood, Stanley Kubrik, Slumdog Millionaire, Chetan Bhagat, Lagaan, Alfred Hitchcock, Avatar, Satyajit Ray, and others.
How the Covid-19 pandemic has disrupted the film industry in India – and how (and why) Netflix, Apple, Amazon Prime, and Disney+ will play a large role in the future.
Ways in which PGDM graduates can apply management principles, strategical frameworks, and marketing models to creative industries.
How the Indian film industry is hiring management graduates in huge numbers – particularly for marketing and customer relationship management roles. Those who have experience in an FMCG company will be at an advantage.
For further information about Kavithalayaa, click here.