Convocation Ceremony of PGDM Class of 2023 at MYRA School of Business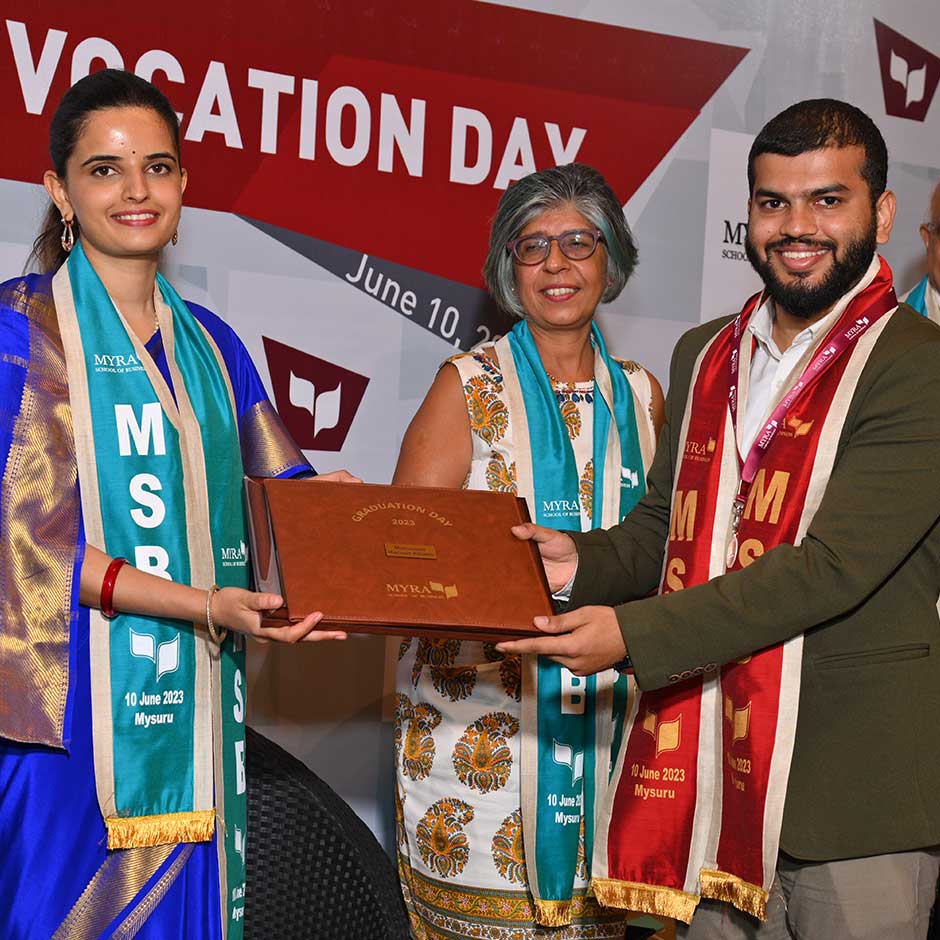 The Convocation ceremony of Post Graduate Diploma in Management (PGDM) for the class of 2023 took place on June 10, 2023, at MYRA School of Business (MSB) in Mysuru. The event was attended by trustees, governing board members, faculty and non-faculty members of MYRA.
The ceremony was graced by the presence of Her Highness Smt.Trishikha Kumari Wadiyar as the Chief Guest and Ms. Zia Hajeebhoy, Director of Aquasail Private Ltd., as the Keynote Speaker.
During the event, the Chief Guest, Smt.Trishikha Kumari Wadiyar, congratulated the students on their achievements and emphasized the value of service (Seva) ), to contribute towards the growth and betterment of the society in many ways small and big and the importance of nurturing relationships built during their time at MSB.
The Keynote Speaker, Ms. Zia Hajeebhoy, shared insights on life values such as generosity, dignity and relationship building. She spoke about her own experiences in corporate roles and encouraged the graduates to remain humble and embrace all individuals who impact their lives.
Dr. Ramasastry Ambarish, Chairman of Board of Governors and Dean, highlighted MSB's goal of building a "top-tier Business School in Mysuru" and the mission of "developing future-ready and globally competent business leaders grounded in Indian ethos". He mentioned the transformation of the PGDM program into a "Digital Mastery" program, focusing on equipping students with the skills needed to thrive in the digital economy.
Mr. Kantharaj Urs, Managing Trustee, advised the graduates to stay connected to their alma mater and embrace challenges as opportunities for growth. He encouraged them to have faith in their abilities, stay curious and continue learning.
The valedictory address featured MYRAcles Mohamed Haroon Khatib, Sai Priya Chatty, Praveen J A and Abhinav Reddy Uppalapati, who shared their experiences.
During the ceremony, the Honour Board and the Dean's list awards were presented to students who demonstrated excellence. MYRAcles Mohamed Haroon Khatib, Praveen J A and Abhinav Reddy Uppalapati received the Honour Board for Academic Excellence, while MYRAcles Mohamed Haroon Khatib, Praveen J A and Sai Priya Chatty were recognized for All Round Excellence.
The ceremony took place at the sprawling campus in Mysuru.
Congratulations to the PGDM Class of 2023 on their well-deserved accomplishments!